Among these, the 2600 controller was the first I used. But prior to that we had a dedicated Pong console. It didn't have cartridges; I think we selected amongst the few available games with a slider switch. I think the 2600 came out a few years later and then the pong console got pushed to the side.

I don't think I've seen a Pong console, but that sounds interesting.

I tried Googling it and it looks like there were several brands/models, but I can't remember which one we had. I was pretty young at the time.
I searched around and found some interesting designs with fake wood. I remember things like TVs and cable boxes having a similar kind of look.
My family's first console was the Atari 2600. Beside the joysticks we had the paddle controllers for tennis.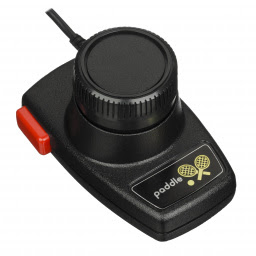 Dan that's cool you played with the home Pong console. I think I played with the home Pong console when I visited a friend's house as a kid.
Those paddle controllers were great for Kaboom! too.

I probably haven't thought about that game since the 80s but the name is bringing back faint memories. The cover art looks familiar.
I looked up the store where I used to buy the cartridges and found an r/nostalgia subreddit.

You can try it out online, but it's hard without the paddle wheels.