This thread is for anyone working through Algorithms 1 on Coursera. (textbook)
I set up Java last night and restarted the videos from the beginning. Here are some tips for anyone else who might be new to Java.
Java Quickstart
Here's how I got Java running on my computer. (I've never really used it.)
I downloaded JDK for Java 13. Edit: it looks like the book recommends Java 8?
https://jdk.java.net/
Also the community edition of Intellij IDE. Edit: see below: I'm using a regular text editor now (vim).
I went through the "hello world" example below. It shows how to point Intellij at the JDK (above).
https://www.jetbrains.com/help/idea/creating-and-running-your-first-java-application.html#
The helper libraries for the course can be found here. When starting a new project in Intellij, go to File -> Project Structure in the menu. Then click "libraries" (shown below), the plus sign, and then navigate to where you downloaded the algs4 library. After that, the code from the course will work.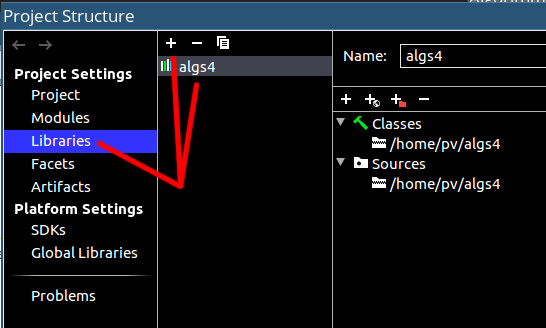 Week 1 Topics
Union-Find
Analysis of algorithms
Exercise: percolation
Interview questions based on the material
He suggests reading chapters 1.4 and 1.5 in the textbook